Between 1999 and 2006, Tom Naylor and Christopher Gibson have spent most of their summer holidays circumnavigating Europe on their windsurfers. Departing from Christopher's home on Hayling Island, England, UK they windsurfed over five summer holidays, they windsuirfed to Africa, picking up each morning where they left off the day before, till the holiday ran out, and then the next year continuing again

| | |
| --- | --- |
| Day: | 2006 - 7 |
| Date: | Thursday 7th August |
| Depart: | Camping Tarifa |
| Latitude: | 36.05271 |
| Longitude: | -5.65120 |
| Stop: | Morocco |
| Latitude: | 35.90600 |
| Longitude: | -5.47505 |
| Arrive: | La Linea / Gibraltar |
| Latitude: | 36.15660 |
| Longitude: | -5.33821 |
2006 Day 6: Africa in Sight: 25 miles (Part 2)
Posted On: 05/09/2006 23:36:24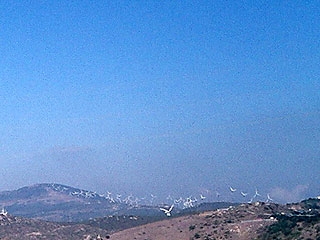 The sea was beginning to feel cool as it splashed against us, we were sailing out of the warm waters of the Gulf of Cadiz and into the cold stream of Atlantic sucked through the Straits as the Mediterranean evaporates. After Cape Gracia, one last small delightful village tucked between the headlands with it's own faultless beach and then the huge dunes that mark the start of Tarifa beach, and what a spectacle: a kaleidoscope sky covered with every colour of kite, as kite-surfers ripped back and forth from the beaches blasting in the strong afternoon Levante. And for every kite-surfer there were three of four windsurfers. After all the solitary isolation and austere coastlines it felt like coming home. Sailing to Tarifa must be about as close as it gets to a windsurfing pilgrimage. Dodging between the hectic surfer traffic, we landed briefly on the soft sand before sailing on up to the town. Bad move.
Tarifa's sandy beach stretches nearly seven miles from 'the Dunes' to the old town. The backdrop remains the same, those arid, mountainous hills, but in Tarifa, the ridges are splattered with windmills, hundreds of them. Literally. This place really is windy. But today, it weren't too bad (by it's own standards) a mere 25 knots 'on the nose'. We hacked round the bay, following the ribbons of windmills towards the town. It's modern outskirts above and besides and then, tucked away, hardly visible from the sea, the stunning old town; eight centuries old, perfectly preserved, an entire walled moorish town of interlinking alleyways and the narrowest of cobbled streets, weaving between a maze of abutting whitewashed town houses. Wanting to stop as close as possible to Morocco, a holding location, ready for our dash across the Straits, we halted on the town beach.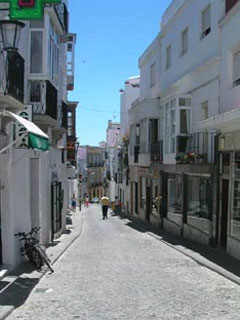 The moment I heard the roar of the quad bikes speeding down the beach, I knew it'd be us they were coming for. Two young female drivers, both stunningly beautiful, all those southern spanish features, dark brown eyes, olive skin, tiny waists, long flowing hair. The first wore uniform, whilst the second bike was straddled by a full-on Baywatch babe complete with regulation bright red swimsuit and corresponding cleavage - they were Police and Red Cross respectively (both outfits worked for me) . The women were reasonable. The two male counterparts who arrived on foot in their wake, were not. "You talk to ME" said one, which in itself was unhelpful as he had little English, whereas the policewoman had been semi-fluent. "Why?" I asked. "I am CAPTAIN" he replied proudly tapping a small, unimpressive adornment on his epaulet. This was, apparently, a bathers only beach. Never mind the fact that, unlike the hundred or two other spanish bathing beaches that we'd passed, this one was not cordoned off by yellow cones, we should have known, he said.......there were signs up by the road! We explained that we had come from Barbate, 25 miles up the coast and could not have seen the signs. We offered to launch immediately and get out of his way (there were only four bathers).
He was having none of it. We would have to de-rig, carry our kit to the road, order a taxi and be driven to a beach where we were allowed to sail. We offered to walk our kit along the beach to where windsurfing was allowed (it wasn't far). No, he wanted to see us de-rig it and carry it up to the road. Even after we had dismantled everything and walked it half way to the road, he still stood over us. It was probably not my best idea to then start clapping and applaud his great contribution to law and order in Tarifa, the windsurfing theft capital of Spain. He responded with "Your table belongs to me". I ignored him. He radioed the police-quad-woman back and had her explain that he was confiscating my equipment. Confiscate my equipment! For clapping? I asked her to tell him "Yeah, right!". He did give up (eventually). Two young hoildaymakers who had seen the incident sympathised with us and offered us a lift, but Fab was on the case and turned up soon afterwards. She drove us out of town, past the 'Costa del Windsurf' sign to Camping Tarifa. Strange how, after all the helpful officials we'd met on the Costa de la Luz, it was here on the self styled 'Costa del Windsurf' that we met the most obstructive. It had long been a worry that the authorities would curtail our trip and ban us crossing the straits. I lay awake long into the night figuring out a strategy for tomorrow's inevitable confrontation.

Chris and Tom would like to thank all those that very kindly sponsored us in 2006 and donated to the Disasters Emergency Committee's sub-Saharan famine appeal. Many thanks.