Between 1999 and 2006, Tom Naylor and Christopher Gibson have spent most of their summer holidays circumnavigating Europe on their windsurfers. Departing from Christopher's home on Hayling Island, England, UK they windsurfed over five summer holidays, they windsuirfed to Africa, picking up each morning where they left off the day before, till the holiday ran out, and then the next year continuing again

| | |
| --- | --- |
| Day: | 2006 - 7 |
| Date: | Thursday 7th August |
| Depart: | Camping Tarifa |
| Latitude: | 36.05271 |
| Longitude: | -5.65120 |
| Stop: | Morocco |
| Latitude: | 35.90600 |
| Longitude: | -5.47505 |
| Arrive: | La Linea / Gibraltar |
| Latitude: | 36.15660 |
| Longitude: | -5.33821 |
2006 Day 5: Trafalgar, a battle: 34 miles (Part 2)
Posted On: 04/09/2006 19:06:32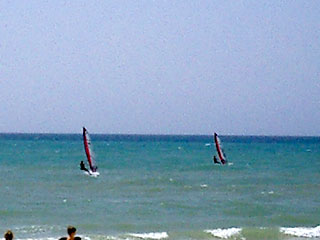 My re-trimmed rig felt fantastic, the wind was howling, yet I was in full control. As I'd been the one struggling before, Tom had said he'd follow me out to the white water and then I could decide whether to carry on or turn back, but I was up for this..........the sea built and built.......we were still beating on the limit, climbing up walls of water and crashing down the other side. This was epic. I was not turning back.
Inches short of the breaking water, heart in mouth, I tacked onto starboard and tried to pick a path along the troughs, trying to work my way through the surf and round the point without getting barralleld by a wall of crashing white water. The overfalls were as bad as we'd seen, the largest creating big pools of sky blue water where they crashed down. Hopping from trough to trough, timing it just right, the plan is always to get round the back of the breaking water, but every so often it didn't work out and you'd have to climb the face, try and find a way over where the water was breaking least violently and then smack down the otherside. Overfalls are not proper rolling waves with steep faces and smooth, rounded backs, they can be more like standing waves, their real direction of travel is up and down, and their backs often nearly as steep as their fronts. So, breaking through the white water on top, you'd fall down the otherside, with little more than the skeg in the back of the wave, and just the power of the wind keeping the board horizontal till you slapped down into the trough.
It was one hell of a buzz though, and eventually the waves began to dimish, we were through to the other side. Tom had fallen behind a bit and was long way downwind of me, I later learnt that he entered the 'killing zone' without his rig on full 'nuclear' tension and had had to battle through, fighting the rig, pushing the front to stop it drilling him - no fun in mast high standing waves. I sat on my board and waited for him, but we lost sight of each other in the waves. A worrying moment for both of us. The thought of one having to go back through the break to find the other, who would presumably have been heavily munched by it, is pretty damn scary, but I eventually caught sight of him upwind, and followed, round the corner cliff to the fishing port of Barbate.

Chris and Tom would like to thank all those that very kindly sponsored us in 2006 and donated to the Disasters Emergency Committee's sub-Saharan famine appeal. Many thanks.