Between 1999 and 2006, Tom Naylor and Christopher Gibson have spent most of their summer holidays circumnavigating Europe on their windsurfers. Departing from Christopher's home on Hayling Island, England, UK they windsurfed over five summer holidays, they windsuirfed to Africa, picking up each morning where they left off the day before, till the holiday ran out, and then the next year continuing again

| | |
| --- | --- |
| Day: | 2006 - 7 |
| Date: | Thursday 7th August |
| Depart: | Camping Tarifa |
| Latitude: | 36.05271 |
| Longitude: | -5.65120 |
| Stop: | Morocco |
| Latitude: | 35.90600 |
| Longitude: | -5.47505 |
| Arrive: | La Linea / Gibraltar |
| Latitude: | 36.15660 |
| Longitude: | -5.33821 |
2006 Day 2: Cumulous in the Sky: 46 miles
Posted On: 28/08/2006 11:06:58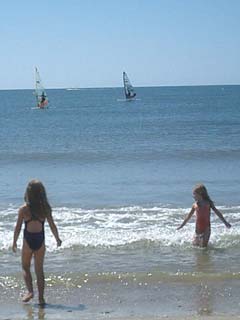 The thermal wind continued till the small hours of the morning then died. The morning brought a light offshore breeze, but soon the huge curving coastline of the Bay of Cadiz, hidden beneath the horizon, was reflected above - rows and rows of clotty little puff ball cumulous clouds painted a vast arc high in that brilliant blue Andalucian sky.
"Look at those clouds - the sea breeze is on it's way - we should get a 180 degree shift and then it'll blow"
"You've been saying that for the last 2,000 miles, and I'm still waiting...." replied Tom as we daudled slowly along the coast, close hauled on port tack in a zephyr.
It slowly dropped to nothing, then started to swing round, and round and then filled in on shore - the sea breeze at last! And sure enough, we had planning conditions and were reaching down the coast. We covered a lot of ground, gybeing down wind out to sea and back to the beach.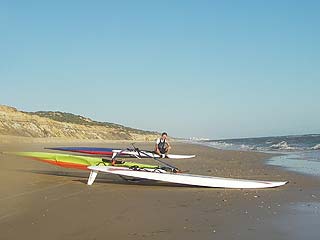 Last year I had slimmed down dramatically and with Tom and I at near enough the same weight we could get planning at almost exactly the same time. This year I was a little heavier than I had been - not much, only a couple of pounds, and I suspect that Tom was also a few pounds lighter than previously (having recently readopted his batchelor lifestyle). Anyway, we soon noticed the few kgs difference as Tom planed longer and broader than me and sped off down the coast. We re-grouped on a long remote sandy beach just as the first pair of wobbly nudists of the year strutted past.
There was a small town ahead and then Donana National Park, 20 miles of salt marshes with no access by land - if we landed there we'd be on our own for the night (though presumably in the company of a few million mosquitoes). It was getting late and there seemed little chance of us making the whole 20 miles, so, spotting a campsite on the hill, we pulled into the town of Matalascanas with another 46 miles under our belt.


Chris and Tom would like to thank all those that very kindly sponsored us in 2006 and donated to the Disasters Emergency Committee's sub-Saharan famine appeal. Many thanks.