Well, we aren't getting any younger, Tom and I are both fifty next year and it is beginning to show!
In the Alps at Easter, hurtling down an icy empty early morning piste the pile of snow surrounding a snow cannon caught my eye. I thought I'd landed the jump just fine, but then suddenly I was cart wheeling down the mountain - may be I caught an edge, or maybe I was just too busy looking back up the hill to see if my wife Fab had seen me pull it off - either way when I bent down to undo my bindings I realised my arm was not functioning. I'd broken my shoulder.
I spent the spring and early summer doing physiotherapy in the gym at the local hospital and increased my regular runs to 10 miles to try and keep my fitness up.
A month ago, the latest x-ray showed the bone had grown back, and though my shoulder is not yet fully functional (my arm doesn't like going above shoulder height) and though it does still hurt, the consultant and the physio have both assured me that I am now unlikely to damage it further by using it.........so off we go windsurfing round the world again - hell it's only pain, what harm can that do?
As for Tom, his training regime was inially interrupted when his good knee became his bad knee and he had to pull out of the 10 kilometre run round Rother Valley. Last week his back seized, and he spent the weekend propped up in an arm chair. He assures me he'll be fine by the time we launch on Friday!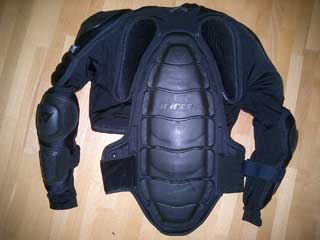 the body armour I was wearing when I broke my shoulder